There are two main ways you can contact us for support. You may call our Help Desk at 251-970-4400, or open a support ticket. To open a ticket, log into the employee portal (mybcbe.rapididentity.com) and then click on the ET Help Desk tile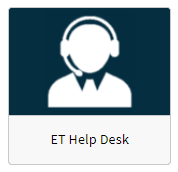 Once you click on the tile you will be taken to our FAQ page. Search for an article here related to your question, or click "Submit a request" to open a new ticket.
Please fill out the form with as much detail as possible. You will receive an email notifying you that your ticket has been opened. Someone from the Ed Tech team will contact you or visit you, depending on the issue. You will receive emails notifying you of progress on your request as well.