There is a feature from Google that allows us to add videos from our Google Drive accounts into Google Slide Decks. Here's how to add one:

1. Open your slide deck and choose where you want to insert your video.
2. At the top, click the 'Insert' tab select 'Video…'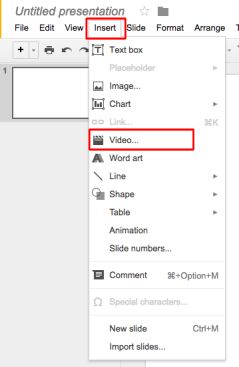 3. A window will appear. Click the 'Google Drive' button.
4. Locate the video you wish to add. Click on it then click 'Select.'
5. The video will be added to your slide deck. At the top, you will see a button for 'Video options.' Here, you can clip the video to show only a certain part of the video when played if you wish. You can also set it to automatically play when in "present" mode.
**Videos are defaulted to only be viewable to @ibaldwin.org accounts. If you need your video to be viewable by people outside our domain, you will need to adjust the 'Share' settings of the video in Google Drive.**